To add an administrator, go to the Configuration menu at the top right of your screen. Then go to the BO Contributors section and click the Send Invite on the right.

You will then have to enter the email of the person, as well as his role on the Back Office (the different ones are explained at the end of this article)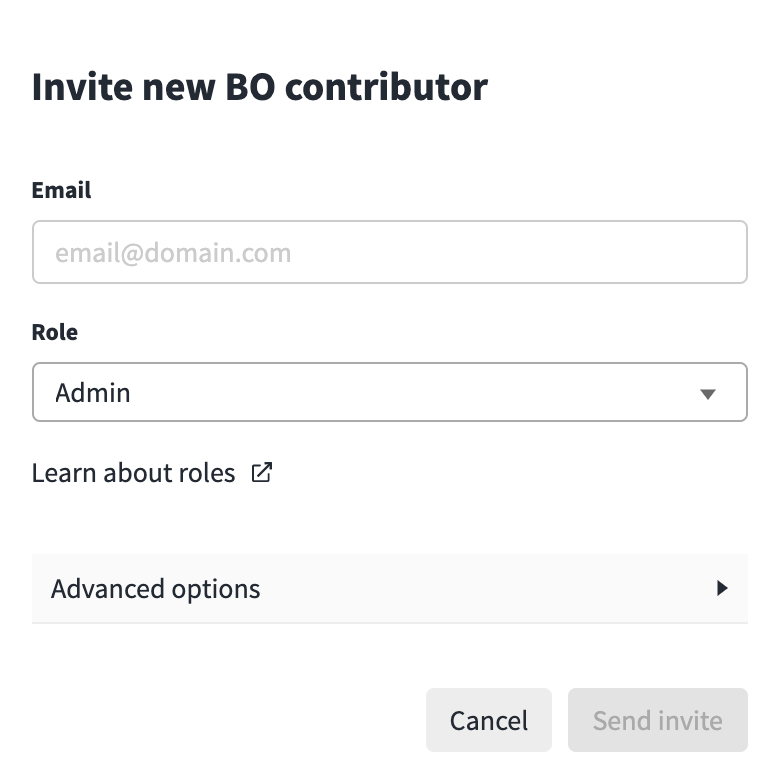 If you need to reduce an administrator's access to a segmentation, you can enter this information into Avanced Options. The administrator will be restricted to the segmentation access you indicate
​

You can manage the list of your users directly on this page by placing your mouse cursor on the admin line.


You can restart the invitation (if the activation link has expired for example).

Delete the admin account
A deleted admin can be recreated by administrators. It is not necessary to contact us to create or modify an administrator.
​
There are 5 different administrative roles in Back Office:
I - The Master Admin
The MasterAdmin has the power to create and modify everything. He has access to all the options of the Back Office: he can write knowledge, he can modify and create segmentations, manage themes, create game phases, activities, add other administrators and access the download of data from reports in Analytics ...
II - The Admin
The Admin has the same powers as the Master Admin in terms of content creation.
However, he cannot modify the themes or have access to them. He can consult the segmentation but cannot modify it.
He does not have access to the report section of analytics, nor to the sign up, as well as to the configuration of certain options (eg notification hours) and gifts. He also does not have the possibility to name new users beyond his own role (only writer, translator and admin).
III - The Writer
The Writer only has access to the CONTENT section, so he cannot create a campaign or consult the analytics.
Its role only allows to create knowledge and phases of games. But in both cases, it cannot validate them without the action of an Admin.
IV - The Translator
The translator only has access to the CONTENT section. He only has the possibility of seeing the content to be translated in order to proceed with their translation.
V - The analyst
The analyst only has access to the Analytic section of the back office. However, he does not have access to all the exports, but only to the leaderboards (rankings)