You can customize the That's all folks form to add a link to a website.
The procedure is simple:
1 - On the SPARTED Back-Office go to "Activity"
2 - Click on "add an activity"
3 - In the popup that appears select the activity "That's all Folks"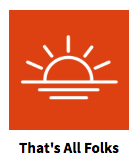 4 - Configure the card with the link to which you want to redirect your users.
5 - save and activate.

The map will appear on the user's screen at the end of the daily series of questions.