The Breaking News is a great way to engage your players. The customers who use it a lot tend to achieve the highest retention rates.
Here are some ways to make good use of Breaking News.
Communicate on upcoming campaigns
Using Breaking News to promote your future campaigns is useful for generating engagement and traffic on your application.
Send Breaking News a week and / or a day before a new campaign, such as: "A campaign is coming next week, be ready!".
This will increase your retention by ensuring that your players do not forget the campaign.
Send out a Breaking News every week to congratulate the best players or the players who played every day. This can also be done by email.
This encourages players to continue, and motivates others to do the same.
Facilitate your internal communication
Some customers use Breaking News to announce corporate events or important news: "The new CEO is coming tomorrow", "The London office is moving out", etc.
By pushing such content directly on smartphones, it becomes easier to you reach your employees. In addition, it brings life and activity to your application.
To create it, simply open the activity menu and choose Breaking News.
The four mandatory elements for a Breaking News are a date, a title, a subtitle and an audience.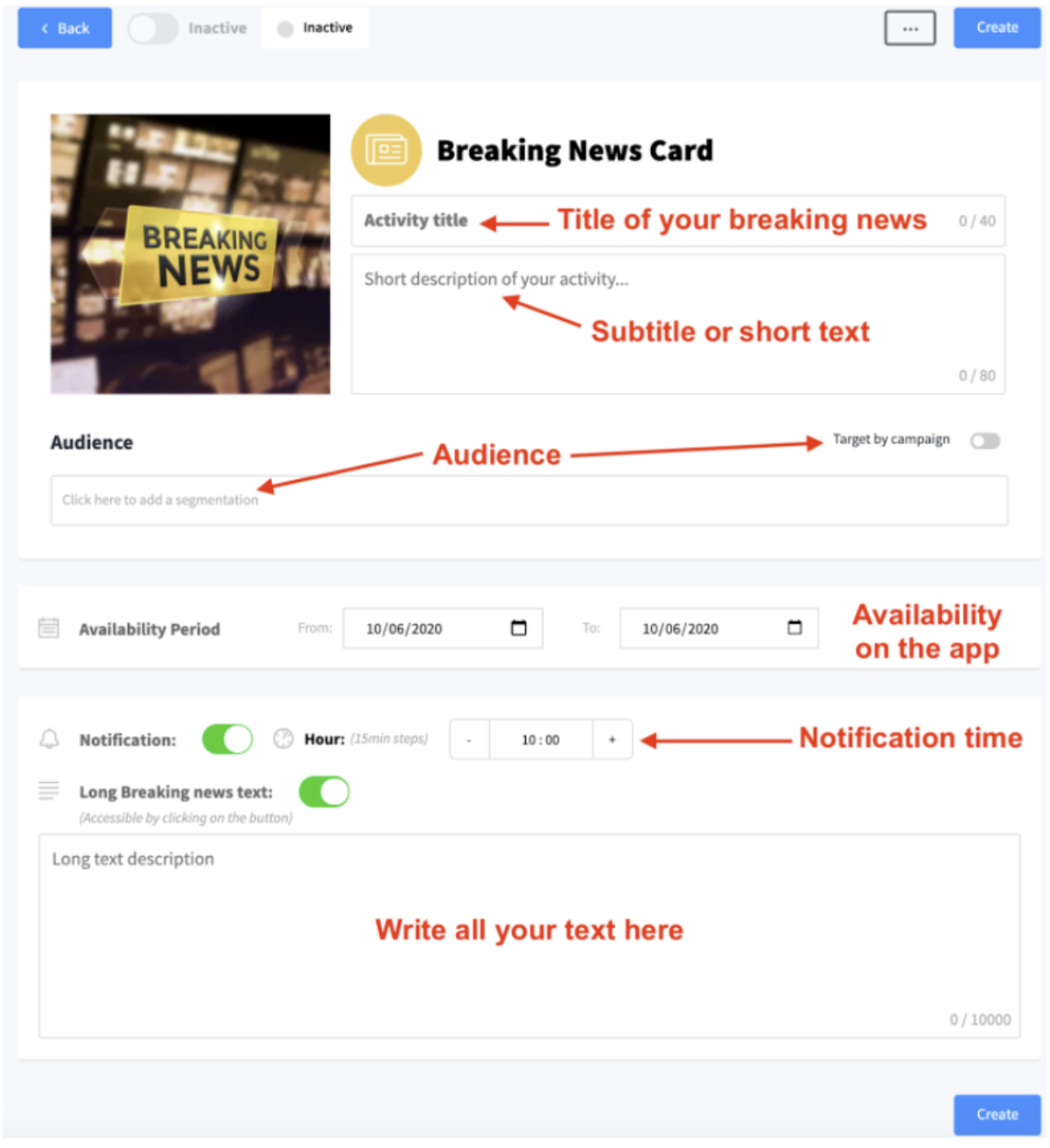 The audience can be defined according to a segmentation, or according to a specific campaign by checking the option "Target by campaign".
We advise you to illustrate your Breaking News with a YouTube video, an image or a GIF (if your company has an interactive video account with Kumullus you can also use this service with Breaking News (talk to your Customer Success Manager).
It is advisable to use notifications to warn your players. The notification will only be sent on the first day of the Breaking News.
If you wish, you can also use URLs in the long Breaking News text, in order to use external documents, see polls.